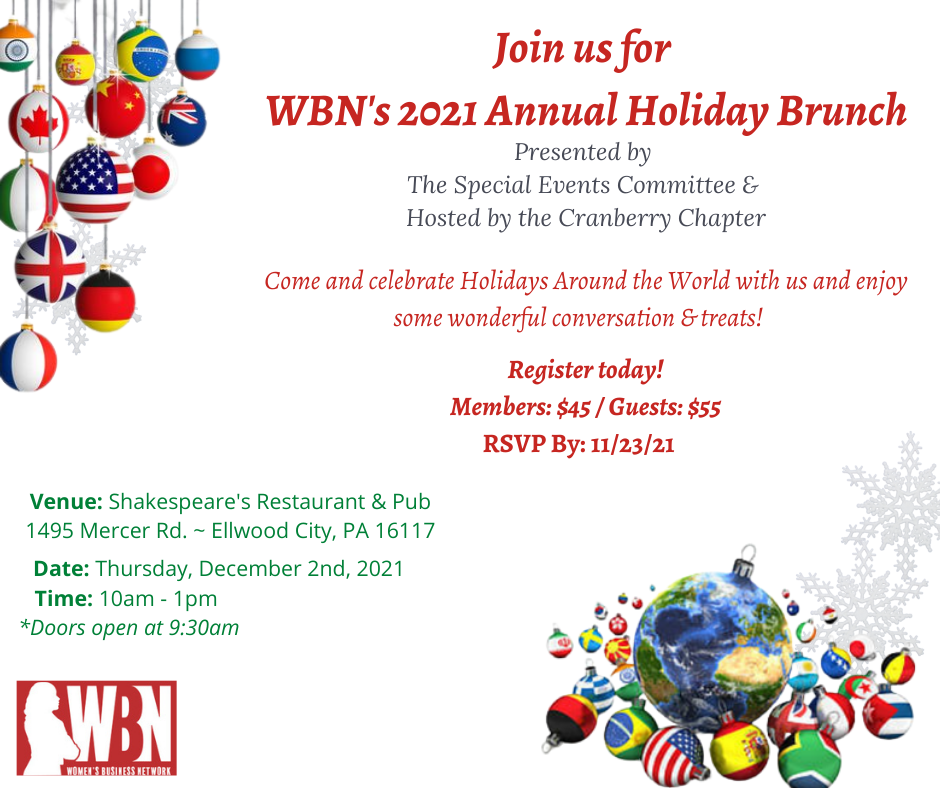 Holiday Brunch
Thursday, December 2, 2021
Costs:
$45 Current Members
$55 Guests
Registration deadline is
November 23, 2021.
Online registration and
pre-payment is mandatory.
No Checks will be accepted.
No walk-ins or at the door payments will be accepted.
No refunds will be issued.
No checks will be accepted for payment.
Chapter Basket Raffle Donations:
Baskets from chapters should be brought the day of the brunch before 10:00am.
Raffle Tickets:
Pre-Sale 50/50 Raffle Tickets – 15 for $10
Pre-Sale Chinese Auction Raffle Tickets – 15 for $10

** Purchasing raffle tickets in advance is suggested.
The morning of the breakfast all ticket pricing
will increase to $1.00 per ticket.  **
Vendor Table:
$50 per table – Members
$75 per table – Non-Members
(One table per business category. First come first serve.)
Register online and you will be notified within 48 hours.


Table Sponsor:

Table Sponsors are available @ $80 each.
Feature your business to the members and guests seated at your table.  You can provide literature at each place setting of your sponsored table.
Register online and you will be notified within 48 hours.


WBN reserves the right to use any photograph/video taken at any event sponsored by WBN, without the expressed written permission of those included within the photograph/video. WBN may use the photograph/video in publications or other media material produced, used or contracted by WBN including but not limited to: brochures, invitations, books, newspapers, magazines, television, websites, etc.