WBN Annual Service Project
Each year, WBN chooses a deserving organization for its annual service project. Chapters may submit an application on behalf of an organization they feel would benefit from some type of active participation from our WBN members. Throughout the year, different activities/fundraising opportunities for the service project take place.
A call for applications takes place annually. Learn more about the application requirements.
2022-2023 Service Project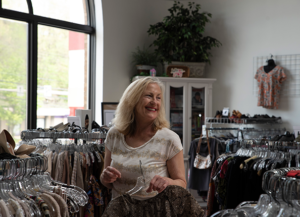 We are proud to announce our 2022-2023 Service Project, Treasure House Fashions! Located at 7607 McKnight Road, the purpose of Treasure House Fashions is "promoting the dignity and self-esteem of women, particularly women in transition or crisis. Outward appearance is not an accurate reflection of your worth, but it can affirm the treasure that you truly are!"
Treasure House Fashions is open to the public, offering quality clothing at deeply discounted prices for woman from size 0 – 4X. They also serve as a liaison for over 65 different area agencies that address the various needs of local woman who are in times of transition ranging from homelessness and addiction, to divorce care and health problems. These woman are the recipient of a gift certificate to Treasure House, allowing them to fill their closet and boost their self-esteem while also maintaining their dignity.
THANKS for investing your time and energy in our mission of "promoting the dignity and self-esteem of women, particularly women in transition or crisis!" We so appreciate your support!! Abundant blessings!!
For questions about how you can help, please reach out to WBN contact Sally Power 412-715-7446 or [email protected].
To learn more about Treasure House Fashions, visit www.thfashions.org.

SERVICE PROJECT CHAIR

Sally Power
7607 McKnight Road
Pittsburgh, PA 15237
Email:  [email protected]
Phone: (412) 715-7446

It's worth the trip, ladies, and we would greatly appreciate being able to move some merchandise to make room for the abundant donations we've received!! We do have SPECIAL SCHEDULES with the upcoming Holidays so take note of days we are CLOSED and dates we are offering SUPER SALES of 70% OFF. See below:
Closed DEC 18-JAN 2 – Merry Christmas and a Happy and Prosperous New Year from our House to each of Yours!
Again, deepest THANKS on behalf of all the ladies we serve for all the support shown by the ladies of WBN! That's women helping women…and it's AMAZING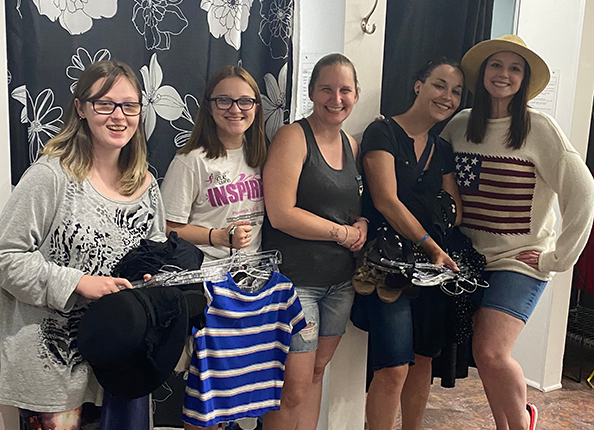 One chapter is already planning to use a Social GNO at our House as their recruitment event! Whether its recruitment or just gals gathering for FUN, we're here for YOU!! We host Social GNOs on TUE, WED, or THUR evenings 5:30-7:30PM. All attending get 60% OFF all shopping, we share the Treasure House mission and bringing refreshments is optional (wine and cheese, milk and cookies – as elaborate or simplistic as you choose!). To schedule, call 412-364-3256 and ask for Tracy or Sally.

"Pay It Forward Gift Certificate"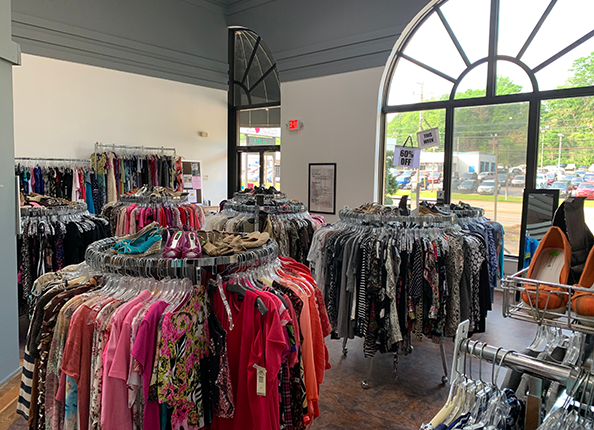 The current economy has increased those in need! In fact, women who never had to ask for help before are coming forward to say they need help! When you underwrite a Pay It Forward eGift-Card, we keep them at our register. When an unexpected "need" arises, we're able to say, "a woman know doesn't even know you, cared enough to leave this here for you! You are sooooo loved!" We've watched many tears of gratitude flow from such acts of kindness! Secure eGift-Cards here: https://www.thfashions.org/egift-cards/
These eGift Cards are available in any denomination and can be used personally, as a gift for a friend, or to Pay It Forward for a local woman in need by emailing to [email protected] (instructions available on the website).