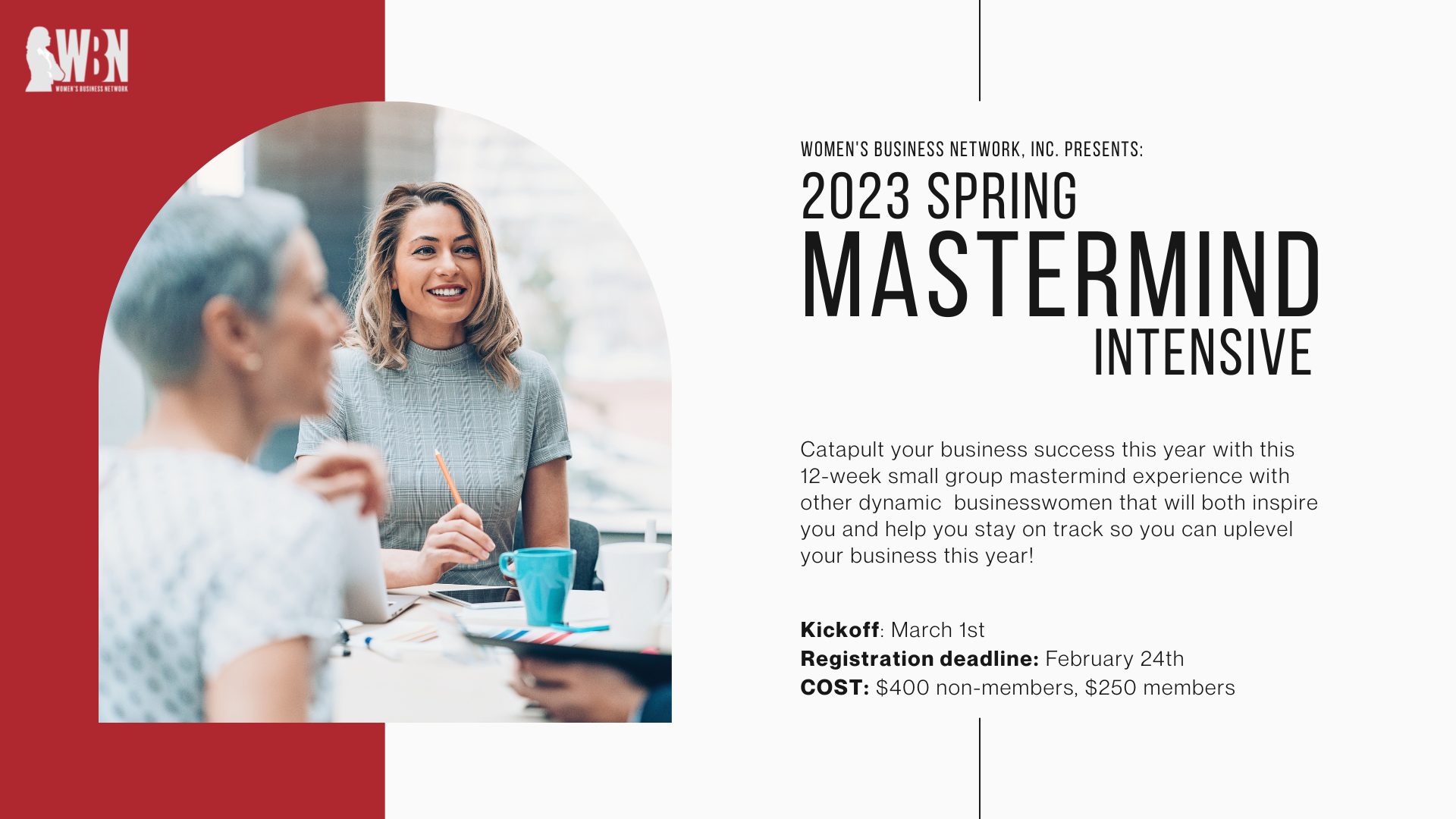 Spring 2023 Mastermind Intensive
Spring 2023 Mastermind Intensive
Kick-off meeting March 1st
What it is – small group of motivated business women who learn and grow together while spurring each other on to achieve their goals. 
Format:
12 (1) hour meetings each week over 3 months (meeting time & day to be determined by group participants)

Private Facebook group

Valuable business planning tools

Weekly optional co-working "power hour" sprints to accomplish your most important goals. 
Cost: 
$250 for members  |  $400 for non-members
** Registration Deadline: Friday, February 24, 2023 **
You've been trying to make your business a thing for awhile now but it just doesn't seem to be working. Inspiration strikes, you set a goal; this will be the one that sticks! And then….it fizzles out because you're too busy, too burnt out, or too scared (or all of the above).
It's time to break the cycle.

The new WBN Mastermind Business Group is the ultimate solution to stay on track and finally smash your business goals! Composed of a small group of motivated business women who learn and grow together, each member's commitment to accountability and goal setting will ensure that you get out of your own way and feel motivated to achieve success!

With each cohort tailored to the needs of its specific members, you'll benefit from advice focused on your specific challenges, encouragement, and support to strengthen your development as a business leader.

Taking place over 3 months beginning in March, you'll attend regular meetings weekly, participate in brainstorming & feedback sessions, and receive invaluable strategies for staying productive and reaching your long-term objectives. You'll also gain access to our exclusive Facebook group to support you on non-meeting days, and invitations to join our weekly co-working "power hour" sprints and tackle those special projects that you've been procrastinating on!

Our group is open to the public, and members of the Women's Business Network receive $150 off of their registration costs.

Unlock your potential for success. Registration opens on January 22nd.