Women's Business Network Annual Conference and Gala Breakthrough to Success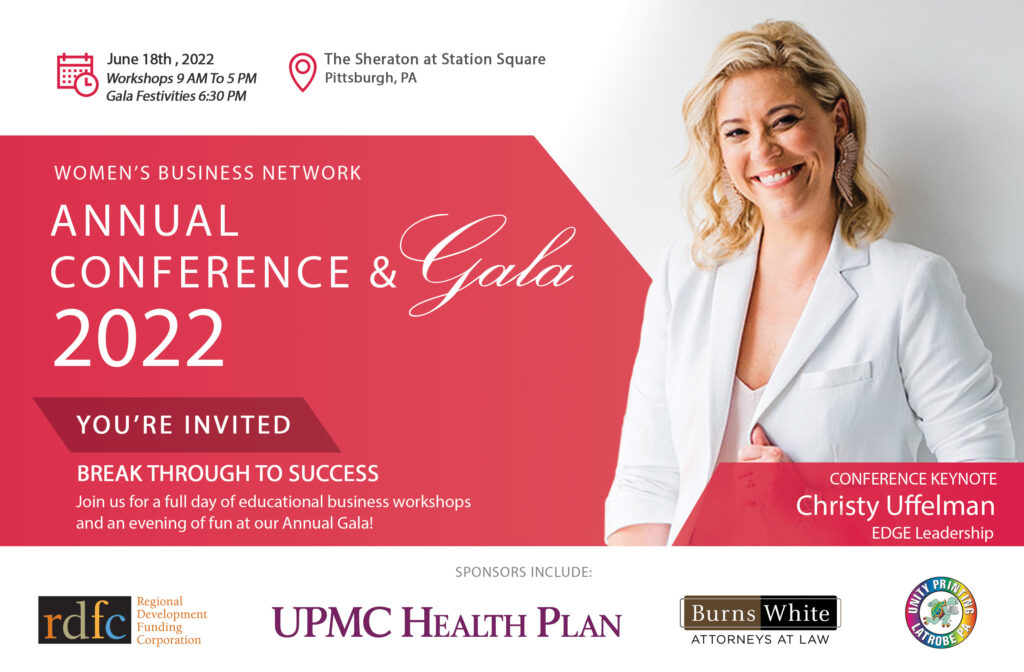 We are proud to announce the extended efforts of our Education and Special Events committees in the development of our inaugural Women's Business Network, Inc. Annual Conference & Gala taking place June 17-18, 2022.
The first women's business conference of its kind in Pittsburgh and the surrounding area, the conference will serve local professionals with networking and educational workshops such as leadership in business and the community, leveraging social media in a changing world, harnessing and maintaining motivation, and business development. Breakthrough To Success kicks off on June 17th with exclusive leadership training for WBN members only. June 18th is open to the public, and will feature a day of workshops on topics like how to communicate effectively with anyone, breaking through mental obstacles, & mastering your business finances.
The event will come to an end with dinner, dancing, and making connections at our Gala event. We're excited to honor women of the community with awards of achievement to advance their professional growth, including the Jean Walsh Scholarship and Woman of the Year. We'll also announce our Annual Service Project, and recognize our incoming board members. We are excited for this new avenue to facilitate growth for our organization and fellow women in our community! Click here to see our speakers and workshops.
7:00 am           Registration Opens
8:00 am            Opening Session & Keynote Speaker
10:00 am          Workshops
12:00 pm           Lunch
4:00 pm             Closing Session
6:30 pm             Gala Begins
The day will be open to members and the public for maximum networking opportunities. 
Workshops will feature multiple concurrent sessions and a diverse array of subject matter and speakers.
Come learn, network and grow!
The Gala will be open to members and the public.
There will be a Keynote Speaker and WBN's Annual Awards, Jean Walsh Scholarship, Annual Service Project and new Board will be presented followed by food, drink and dancing the night away!
Come celebrate with us!
Early Bird Deadline (save $25):  April 30, 2022

Registration Deadline:  June 3, 2022
Deadline for Block Rate at Hotel:  May 17, 2022